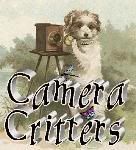 It's Camera-Critters time again! Be sure to visit the Camera-Critters blog and check out all the other folks participating this week. I'm always impressed with all the cool pictures being posted!. You can get there by clicking the button at the top of this post.
Today I'm posting pictures from last year of a hen and her chicks that live next door. Yes, we do live within the city limits, but there are still chickens next door. Along with a duck and a couple of roosters that crow at 2 am! The dogs found her on this nest right next to our fence, then not long after, I spotted her leading her brood all around on our side of the fence. I apologize for the pictures not being so clear, I had to use the zoom to get the shot. I especially like the little dude that is "high-stepping" behind her in the 3rd pictures! :)
Hope you enjoyed my addition this week and be sure to check out Camera-Critters for more.